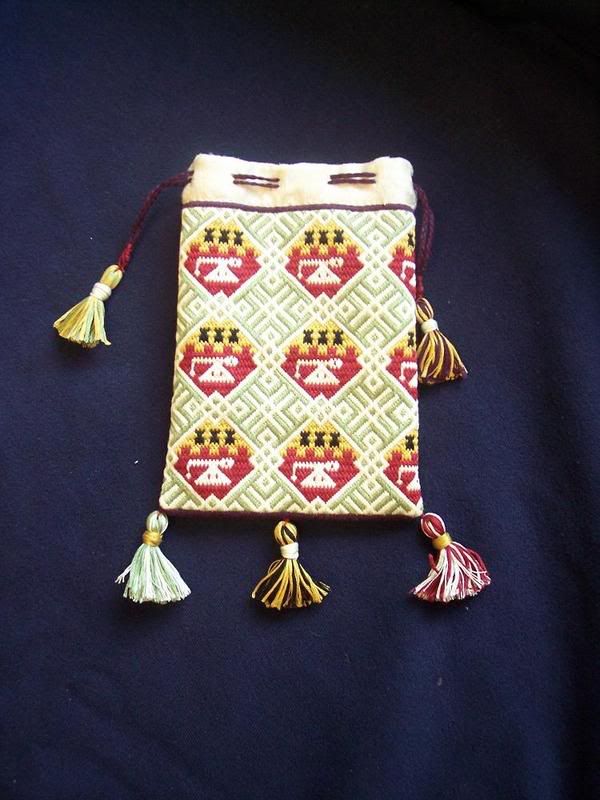 ...I'll show off an old one. My first completed purse worked in the brick-stitch (sometimes referred to as
opus teutonicum
although I'm not entirely sure that's precise.. any comments here?)
Worked in 6-strand cotton embroidery floss on 28-ct cotton evenweave, no seam on the bottom. The heraldic elements were adapted from the arms I display at living history events (e.g. SCA), and only appear on one side of the purse (which I consider the "front" side). The lining is white silk brocade that I had lying aroud.
Self-critizism:
- Not going to get into the cotton vs silk/linen issue here, as it was my 1st attempt and I was/am a poor student :-)
- As far as construction is concerned, I made this before I fully understood the more historically common treatments of the seams (e.g. the "Gobelien stitch".. not sure if I spelled that correctly).
- I understand now that tassle heads were rarely (if ever) left uncovered.
- With the above comment in mind, my treatement of the attachement between drawstrings and tassles could've been a bit more thought-out..
- Lacks a suspension cord.
Some things I learned from this:
- Why the suspension loop is a good idea. (Because if you suspend it from the drawstrings, you will anger yourself every time you try to fish something out of it.)
- How to assimilate designs to 'fit' the style: better to lose some of the 'realism' of the design (e.g. my heraldic trebucht) in order to achieve a consistent look to the piece. It's easier for me to intuit this than to put it into writing. At least for now.
Here's a view of the back: