I've been intrigued by the late 13th c. reliquary bag
IRPA obj. 21717
for some time now; between yesterday night and this morning I had nothing better to do, so I came up with a possible interpretation of the pattern, and also a small sample (below). What's interesting about this is that it seems to mix brick stitch (with which I've become quite familiar by now) and a kind of lattice motif made by — I assume — using an awl to spread apart the threads and stitching it open, essentially like a lacing hole on a garment. It also has portions where the ground fabric is visible. Unfortunately, I can't determine whether this was intentional or not; I suppose the stitching could have been destroyed by caustic dyes, or picked out (for example, to recycle gold thread). I've just gone with the notion that it was intended that way, and built my pattern to match that idea.
Here's the sample that I did on some scrap fabric (32-ct, I think) with cotton embroidery floss: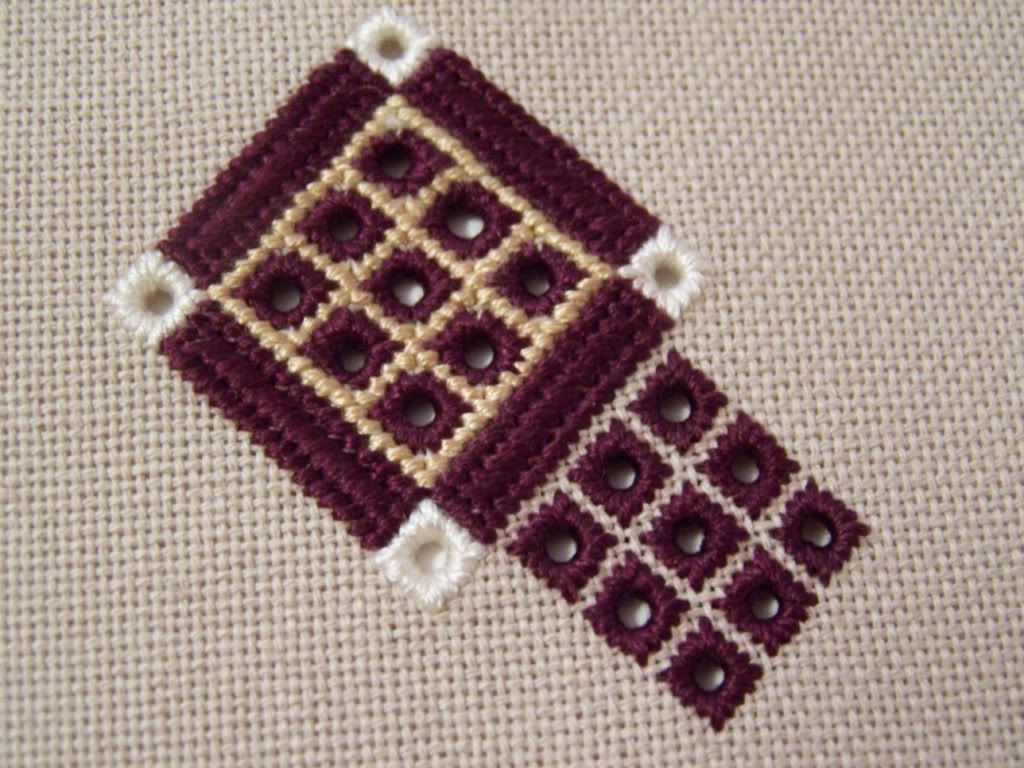 You may notice that the yellow-bordered latticework doesn't have vertical stitches. I hadn't originally put them into the pattern, but by the time I got to the white portions and the unbordered latticework (where the ground fabric can be seen) I decided that it did need those stitches on the top and bottom, otherwise it would look strange.
The website states that the purse is made of sheep's wool, silk (?), and gold. From just looking at the available pictures, I can't seem to determine where the gold is. I believe this is yet another purse referenced in Frieda Sorber's
Tongeren Basiliek O-L-Vrouw Geboorte
. I really must get myself a copy of that book.
I'd be interested to hear/see any ideas or alternate interpretations of this piece!